Bitcoin (BTC) Price Prediction – January 27, 2021
For the past five days, BTC/USD price has been in a sideways move as bulls fail to break the $34,000 resistance level. The crypto has been fluctuating between $30,000 and $34,000. The bulls have attempted to break the recent resistance on two occasions but were repelled. Presently, the bears have broken the $30,000 support level. Bitcoin may encounter a deeper correction.
Resistance Levels: $45,000, $46,000, $47,000
Support Levels: $35,000, $34,000, $33,000
Following persistence retest at the $30,000 support, the bears broke the 30,000 support level. Nonetheless, if the bearish momentum is sustained, the coin will decline to $26,500 low. This is not the first time the $30,000 support level has been broken. On January 22, the bears broke the $30,000 support and the coin slumped to $28,989 low. Promptly, the bulls buy the dips as BTC price rose to $34,000 high but was resisted. This resulted in a range-bound movement between $30,000 and $34,000 for the past five days. Nevertheless, if the current breakdown is sustained, the BTC price will further depreciate. In the meantime, the crypto is pulling back above the $30,000 support after reaching the low of $29283.
Chamath Palihapitiya, a Bitcoin Billionaire Is Set to Run for California Governor
Chamath Palihapitiya is the CEO of the venture capital firm Social Capital. He is an early Bitcoin investor who is eying to run for the California governorship election. He announces his intentions in a Tweet on January 26. According to his new website, he has made several promises for the U.S. state including massive tax cuts, an increase in teacher's salaries, the end of student loans, and a handout for new births. This is coming at a time a good number of Californians have been displeased with Newsom's performance as the present governor. The present government has been accused of inconsistent shutdowns and a slow-moving Covid-19 vaccine rollout.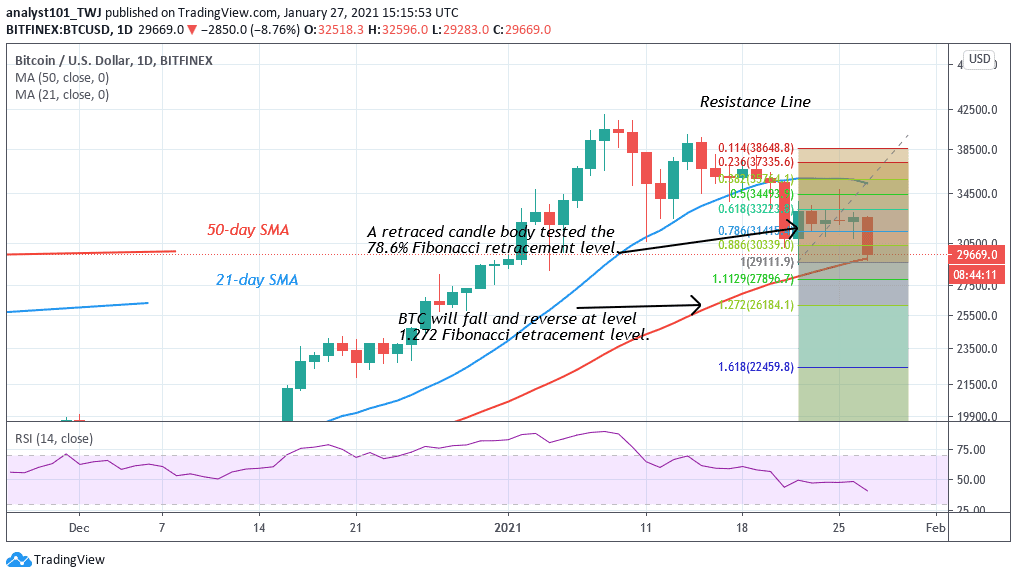 Presently, the BTC price has pulled back after breaking the $30,000 support. The Fibonacci tool has indicated a downward movement of the coin. On January 22 downtrend; a retraced candle body tested the 78.6% Fibonacci retracement level. The retracement level suggests that BTC price will fall to level 1.272 Fibonacci extensions or the low of $26,184.10. At this low, coin is likely to reverse and return to 78.6% Fibonacci retracement level where it originated.