Description
4K Wallpapers app is an android template application with awsome material design wallpaper app. We assure that each wallpaper image has perfectly measured by phone's display and comes with a host of user friendly features. Wallpapers have high quality resolutions including devices with huge screen for instance Full HD, Ultra HD wallpapers, 4K. We have added categories such as nature, minimal, people & sports etc. It contain many features and options like download wallpaper to device or set it as wallpaper of home screen or lock screen. The stunning Material Design UI allows you to easily tap and swipe your way through the multiple wallpapers.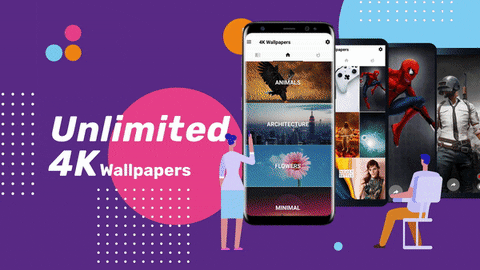 Demo APK:- https://drive.google.com/file/d/1LcIdPTJwQRCDck9BkEUzvIes-Tueaib6
Demo Admin Panel: https://hdwallpaper.demo.site/index.php
Username: admin
Password: admin
Application Features
Android Studio Support with Material Design
Wallpapers list by Most Recent & Most Trending
Wallpaper Sizes – Thumbnail/Mobile Device/Original/All
Download count of each wallpaper
Endless Scrolling of list
Save or Share Wallpapers with your friends on social networks
Tags for each wallpaper
Set As Wallpaper Option
Make Wallpaper Favorite Option
Clear Cache Option
Material Navigation Drawer
Downloads List
One Signal Push Notification
Manage Notification Configuration from admin panel
Send notification through admin panel
Admob Integrated
Change Banner/Interstital Ids from admin panel
Enable/Disable Ads from admin panel
Updates Control from admin panel (Force Update Module Added)
Change Wallpapers APIs threshold settings from admin panel
Quick and easy to use
Lazy Loading
Rating App
Clean & Neat Code
Admin Panel Features
Simple and Attractive Admin Panel.
Powerful Controls
Display Total Category and Wallpaper Uploaded.
Manage Wallpapers Section with Download Counts
Upload Unlimited Category with Beautiful Cover Size Images.
Upload Unlimited Wallpapers
Convert Wallpaper from Desktop to Mobile
Wallpaper Cropping
Wallpaper Zoom Out & In
Different Sizes – Thumbnail/Preview/Original
Full Application Control
Send Notification from Admin Panel
Clean & Neat Code
WHAT YOU GET
Full Android Source Code
Full PHP Server Code
Full Documentation with Screenshots
README

0
Source
How useful was this post?
Click on a star to rate it!
Average rating / 5. Vote count:
No votes so far! Be the first to rate this post.
We are sorry that this post was not useful for you!
Let us improve this post!
Thanks for your feedback!